Another Wednesday, another bento! Sadly, this was the last concert on the square until the spring, so I'm going to have to watch for other bento-making opportunities between now and then!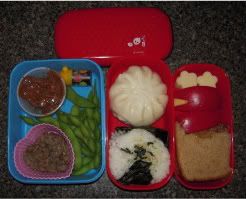 In the blue container, top left is a peanut butter/chocolate gourmet spread for the apples to the right. A tiny container of Bragg's Aminos. Edamame. And a heart of lentils for my daughter.

In the middle, a steamed bun (that wasn't as good as it should've been) and an avocado/spicy paste onigiri on some seaweed.

On the right, cheese flowers, sad apple "bunnies" (next time I'll try something else), and a sunflower seed butter half-sandwich.

Aside from the not-so-wonderful bun, this was a good lunch!