These are three bento from last week and the week before. Its ages snce I've made a bento and its lovely to get back into it.

From left t right: Vegetable Gyoza, rabbit of gyoza dipping sauce, runner beans with oyster sauce. Soy sauce hard boiled egg, somen noodles with rose pasta sauce, sprng onions and cucumber. Lemon Muffin.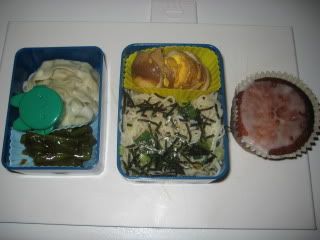 Battered prawns, rabbit of sweet chilli sauce, noodle and vegetable stir fry. Side car of cheese scone, mini pepperami and a chunk of admiral collingwood cheese.




Mini courgette and feta quiche, cocktail sausages, caramel fish biscuits, on top of a lettuce leaf. Pesto potato salad.