Made for
bentochallenge, this week's challenge focuses on the works of the famous childrens books author, Roald Dahl.

First is "Charlie and the Chocolate Factory"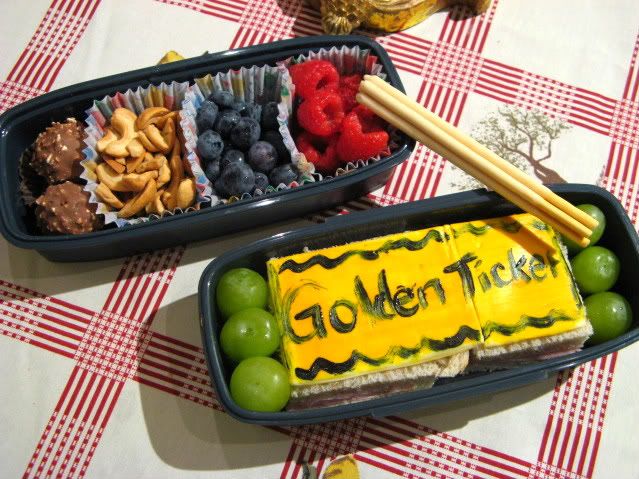 Top tier has 2 Ferrero Roche Chocolates, Cashews (for the nut sorting room,) Blueberries (for Violet Beauregard,) and "Snozzberries" (they're really raspberries though.)
Bottom tier has a Ham and Cheese "Golden Ticket" sandwich with seedless green grapes.

Next is "Fantastic Mr. Fox"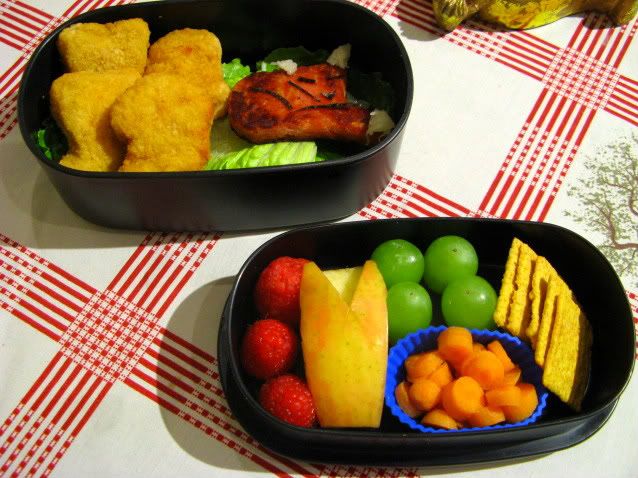 Top tier has Chicken Nuggets (you know, since foxes hunt for chickens,) and a Spam, cheese and nori fox on top of some Romaine Lettuce.
Bottom tier has Raspberries, an apple bunny (since rabbits are one of the many animals Mr. Fox shares his veggies with,) mini carrot coins, seedless green grapes and Wheat-thin crackers.

x-posted to
bentochallenge