The first bento is in my laptop lunch box, Lebanese chickpea and potato stew with a boiled egg on top, salad with lettuce and cherry tomatoes, chocolate covered pretzels, rice and bean salad with vinaigrette in the little blue container.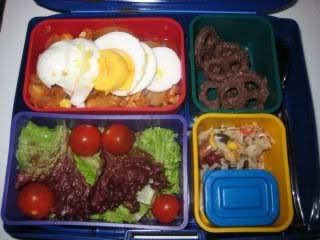 This one from left to right is: cocktail sausages on picks, a mini babybel, chopped up cucumber in the yellow cup and mustard for the sausages in the orange tulip. Then pesto and tomato potato salad in the bottom layer.
This is an indian themed bento: curried rice with sugarsnap and mangetout peas, 2 sweet potato bhaji and 2 onion bhaji with a blue elephant of raita and a green cat/rabbit of mango chutney, spinach with tamarind sauce and a green tea custard pancake thing.