Hello all.
First daytrip bento of this vacation! As a snack though for 4 people, and not all to complicated or fancy, but it tasted lovely :)
And I had a first real good try on my thermo bento bags. I had the red hello kitty box in 1 and surrounded it with plastic icecub thingies and the other had had a coolingpack on top. And it stayed lovely and cool. We had the fruits around 3 or 4 and we packed them at 8 in the morning so I'm very satisfied!
I'm sorry for using 2 pictures without 1 in a lj-cut, but I'm on another computer than usually, and it does NOT want to cooperate -.-
Blue shaun the sheep box:
All kinds of shape-eggs on a bed of a mixed salad.
I had a loose strawberry bottle with some salt for the ones who wanted a bit on their eggs. It was one of those bottles that was a candy-powder bottle first and worked perfecty! :)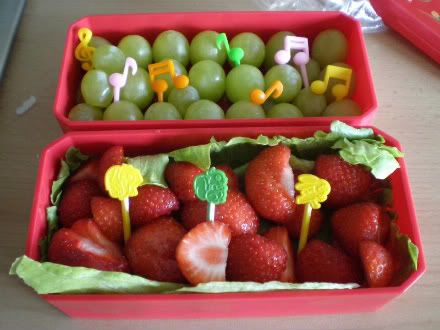 Red hello kitty box:
Green grapes and strawberries on a lettuce bed with some picks :)