Hello
bentolunch
, long time no post!
I'm going out with my daughter today to storytime followed by a picnic in the park, so I *had* to make a bento. I love how this one came out!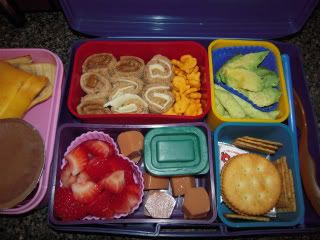 From top left, clockwise:
Rolled sandwiches - sunflower seed butter sandwiches and cheese sandwiches. Baby goldfish as filler.
Avocado. Snapea crisps as filler.
Straws (my daughter loves straws) and utensils.
Laughing Cow cheese with two types of crackers.
In the silicone heart, cut up strawberries. Then there's a cut up tofu pup that is surrounding a small container of ketchup.
The sidecar has half a banana and some applesauce.
Not shown, my water bottle and my travel cup filled with a homemade iced decaf mocha latte. ;)
Hope you're having a great day!