Hi, I'm posting for the first time, three bentos I've made. I've done more, but didn't take any pics.
Here we go: my daughter asked for a kitty that was "behind something" so I put the pawprints on the wall with kitty ears up next to the tree and clouds. This pics was taken before the cat stole the salami roses..>.< Yes, it's a kids' frozen dinner container, she eats lunch at home still but wants "real bento"
Next, I made these today, for a party: plain ones have fish sausage inside, pink are Ume filled, the yellow have takuan in them, the flowers on the pink ones, came in the package of plums I bought, I think they are cherry blossoms.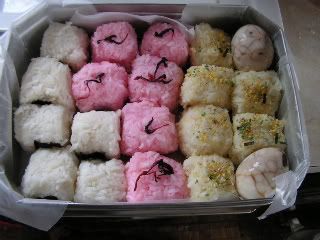 This last one I made for the DH, trying to help him lose weight. However, he picked at all the sides all day and then couldn't get down the rice *facepalm* That's when I told him the sides were to help the rice "go".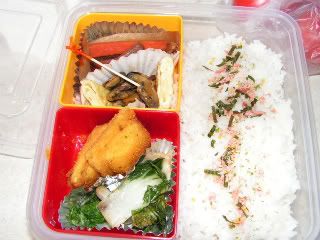 Thank you very much!