Yea, running a lot late today: nasty weather kept me off the desktop and that's where all my graphics and web stuff is.
Anyway, for...er, yesterday....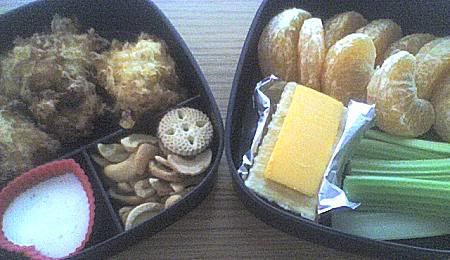 Bottom Tier: Chicken Corn Fritters (recipe
here
), Lite Ranch Dressing, Cashews, Teeny Tiny Cookies (so not worth what I paid)
Top Tier: Clementine, Club Crackers and Mild Cheddar in tinfoil, Celery Sticks.
I didn't realize how orange/brown/yellow this was until I started putting things together. lol But at least it had all the food groups and was tasty.
No bento for today. I thought about it and decided against it since I wasn't also going to be making one for baby. Won't be much of an excuse when she and mom go on vacation for two weeks, but somehow worked for tonight. *g*