My boyfriend is sick! I've been rubbing Vick's on his chest and giving him lots of tea, but I think this bento might make him feel good, too. It was made with love, of course.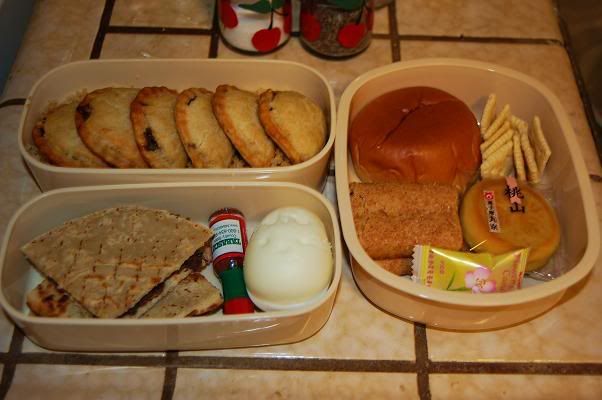 Top: Mushroom turnovers on a bed of couscous
Bottom: Tortillas with refried black beans, a bunny egg, and a mini Tabasco bottle (for the tortillas and anything else he wants)
Sidecar: Mini anpan, mini Saltines, strawberry bar, mini Japanese cake, Flower's Kiss Candy
I need some help. My boyfriend loves everything spicy, especially couscous. He's French, so he was exposed to very flavorful, spicy, authentic couscous in his childhood. I generally like my foods on the plainer side, so I've always eaten my couscous with just butter. However, I want to learn how to make different couscous dishes like he used to eat when he was a kid. I think that would make him really happy. I'd like to expand my own palette as well. Does anyone know of some good couscous recipes? As I said before, he likes couscous spicy, but if anyone knows of a good milder recipe, I'd love to hear that as well.
On to my bento for work tomorrow (it's pretty similar to my boyfriend's):
(
Collapse
)
It seems as if I used a LOT of neutral colors this time. Oh well. What counts is the yum factor of the lunch itself.