First post with a bento!
Bento #1: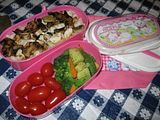 After reading
Cooking Cute
, I was inspired to make a bento box for lunch. It's not impressive, but it was good! I bought a few more boxes and some extra supplies since this was posted, so I can make a few more smexy lunches!
Top Portion: Rice with lemon peppered chicken and rice vinegar mushrooms
Bottom portion: Cherry tomatoes with Steam Fresh vegetables.
Enjoy!